Beach Volleyball Tournaments – Niagara Rec Sports
Niagara Rec Sports & Social Beach Volleyball tournament series is a 6 tournament series throughout the 2023 Beach Volleyball season.
Spots are limited, register your team as soon as you can.   
Details:
4 games guaranteed, more the farther you make it into the playoffs
6 vs 6 coed, max 4 males on the court min 1 female
Prizes for each division winners
Have a chance to win the NRS Champions Cup!
Food and Drinks right at the courts (full restaurant) for a great family friendly day of Beach Volleyball
Dates:
June 17th – Dive Into Summer
July 1st – Canada Day In The Sand
July 22nd – Mid Summer Classic
August 5th – Bumping Up My Tan
August 26th – National Peach Day
September 16th – Farewell To Summer

Quick Links
Rules
Schedules & Rosters
Regency Athletic Resort
Our Niagara Falls Beach Volleyball Tournaments will be held at the Regency Athletic Resort the ultimate family friendly Sport & Social establishment.
Enjoy it all with great food & drink right at the courts with a full restaurant and licensed areas right at the courts.  Come play your favorite sport & meet new friends at the place to be this summer for Niagara Recreational Sports
4 beach volleyball courts
2 softball diamonds
Cornhole courts
Pickleball courts
Live music throughout the week.
---
September 16th 2023
Farewell To Summer – Beach Volleyball Tournament Registration – Coed

6 vs 6 – 4 Males Max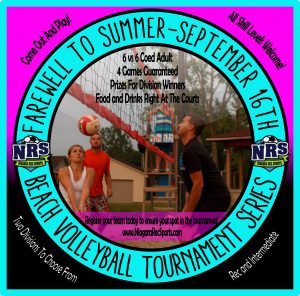 Team:
$190 + hst
Tournament – 6 vs 6 Coed
Guaranteed 4 games
Registration Deadline: September 10th 2023
Tournament Date: September 16th – Saturday all day tournament

Divisions:
Intermediate
Rec
Team Registration – Email for waiting list 2023
---
June 17th
Dive Into Summer- Beach Volleyball Tournament Registration – Coed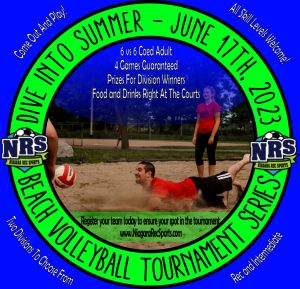 6 vs 6 – 4 Males Max
Team:
$190 + hst
Tournament – 6 vs 6 Coed
Guaranteed 4 games
Registration Deadline: June 3rd 2023
Tournament Date: June 17th – Saturday all day tournament

Divisions:
Intermediate
Rec
Team Registration – Email for waiting list 2023
---
July 1st 2023
Canada Day In The Sand – Beach Volleyball Tournament Registration – Coed

6 vs 6 – 4 Males Max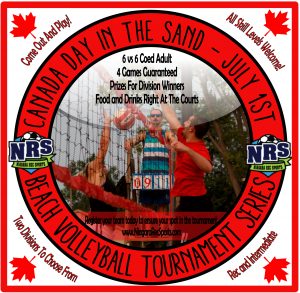 Team:
$190 + hst
Tournament – 6 vs 6 Coed
Guaranteed 4 games
Registration Deadline: June 17th 2023
Tournament Date: July 1st – Saturday all day tournament

Divisions:
Intermediate
Rec
Team Registration – Email for waiting list 2023
---
July 22nd 2023
Mid Summer Classic – Beach Volleyball Tournament Registration – Coed

6 vs 6 – 4 Males Max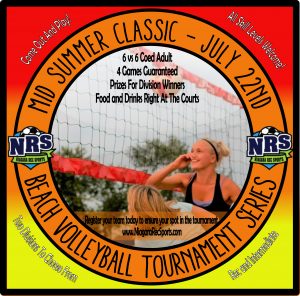 Team:
$190 + hst
Tournament – 6 vs 6 Coed
Guaranteed 4 games
Registration Deadline: July 16th 2023
Tournament Date: July 22nd – Saturday all day tournament

Divisions:
Intermediate
Rec
Team Registration – Email for waiting list 2023
---
August 5th 2023
Bumping Up My Tan – Beach Volleyball Tournament Registration – Coed

6 vs 6 – 4 Males Max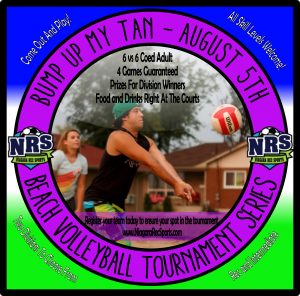 Team:
$190 + hst
Tournament – 6 vs 6 Coed
Guaranteed 4 games
Registration Deadline: July 30th 2023
Tournament Date: August 5th – Saturday all day tournament

Divisions:
Intermediate
Rec
Team Registration – Email for waiting list 2023
---
August 26th 2023
National Peach Day – Beach Volleyball Tournament Registration – Coed

6 vs 6 – 4 Males Max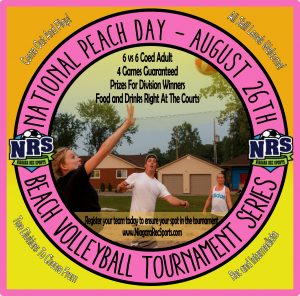 Team:
$190 + hst
Tournament – 6 vs 6 Coed
Guaranteed 4 games
Registration Deadline: August 20th 2023
Tournament Date: August 26th – Saturday all day tournament

Divisions:
Intermediate
Rec