Indoor Soccer Schedule
2016/17 Indoor Soccer Schedule
Team Colour & Roster List
Schedule subject to change, please check schedule weekly to verify correct game time and field location. All games are played Sunday evenings
Playoff Schedule Can Be Found Here.
Indoor Soccer Standings Quick Link
Team Colour & Roster List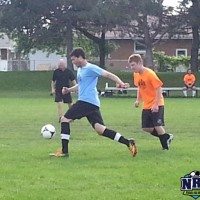 For field locations follow this link.
_
Indoor Soccer Divisional Schedule 2016/17
A Division
B Division
C Division
Indoor Soccer Schedule 2016/17
Qualifying Round Schedule – (Now Complete)
2016 Indoor Season Layout
Qualifying Round
We will have a 10 week qualifying round where teams will be in one large league.
After the 10 weeks are complete the league will be broken up into 3 divisions of 6. The top 6 8 teams will be placed in the A division, playing for the NRS Champions Cup.  The next 6 will be placed in the B Division playing for the NRS Consolation cup and the bottom 6 will be in the C Division playing for bragging rights.  Even though we have an A Division please keep in mind it is not a "Competitive" Division, it is coed adult rec soccer, first priority should be to have fun.
A Division

Match
Score
January 8, 2017 7:00 pm Field 2
Expendables – Graboids
2 - 3
January 8, 2017 7:45 pm Field 2
Liquor Pool FC – We Got Balls
3 - 3
January 8, 2017 8:30 pm Field 2
Multiple Scoregasms – Salahuddin
5 - 4
January 15, 2017 7:45 pm Field 1
Graboids – Salahuddin
3 - 5
January 15, 2017 9:15 pm Field 2
Liquor Pool FC – Multiple Scoregasms
1 - 8
January 15, 2017 10:00 pm Field 2
We Got Balls – Expendables
2 - 0
January 22, 2017 7:00 pm Field 2
Multiple Scoregasms – We Got Balls
7 - 2
January 22, 2017 9:15 pm Field 2
Expendables – Salahuddin
9 - 7
January 22, 2017 10:00 pm Field 2
Graboids – Liquor Pool FC
4 - 1
January 29, 2017 7:00 pm Field 2
Liquor Pool FC – Salahuddin
3 - 6
January 29, 2017 7:45 pm Field 2
Expendables – Multiple Scoregasms
0 - 3
January 29, 2017 9:15 pm Field 2
Graboids – We Got Balls
2 - 6
February 12, 2017 7:45 pm Field 2
Salahuddin – Multiple Scoregasms
4 - 7
February 12, 2017 8:30 pm Field 2
Expendables – Graboids
0 - 5
February 12, 2017 8:30 pm Field 1
Liquor Pool FC – We Got Balls
1 - 2
February 19, 2017 8:30 pm Field 1
Salahuddin – Graboids
5 - 4
February 19, 2017 9:15 pm Field 1
Expendables – We Got Balls
2 - 4
February 19, 2017 10:00 pm Field 1
Liquor Pool FC – Multiple Scoregasms
9 - 3
February 26, 2017 8:30 pm Field 1
Expendables – Liquor Pool FC
2 - 0
February 26, 2017 10:00 pm Field 2
Graboids – Multiple Scoregasms
4 - 6
February 26, 2017 10:00 pm Field 1
Salahuddin – We Got Balls
2 - 2
B Division

Match
Score
January 8, 2017 7:45 pm Field 1
NOTL – Romby`s FC
3 - 3
January 8, 2017 9:15 pm Field 2
Keenage FC – Momma Meggers
3 - 1
January 8, 2017 10:00 pm Field 2
Brangelina Forever – The Browns
3 - 7
January 15, 2017 7:00 pm Field 2
Keenage FC – The Browns
2 - 2
January 15, 2017 8:30 pm Field 1
Brangelina Forever – NOTL
1 - 1
January 15, 2017 10:00 pm Field 1
Momma Meggers – Romby`s FC
3 - 1
January 22, 2017 7:45 pm Field 1
Momma Meggers – Brangelina Forever
2 - 1
January 22, 2017 8:30 pm Field 1
Keenage FC – Romby`s FC
1 - 0
January 22, 2017 9:15 pm Field 1
NOTL – The Browns
4 - 4
January 29, 2017 8:30 pm Field 1
Momma Meggers – The Browns
0 - 2
January 29, 2017 9:15 pm Field 1
Brangelina Forever – Romby`s FC
2 - 5
January 29, 2017 10:00 pm Field 2
Keenage FC – NOTL
2 - 4
February 12, 2017 7:45 pm Field 1
Keenage FC – Momma Meggers
1 - 5
February 12, 2017 9:15 pm Field 1
NOTL – Romby`s FC
0 - 1
February 12, 2017 10:00 pm Field 1
Brangelina Forever – The Browns
1 - 5
February 19, 2017 7:00 pm Field 2
NOTL – Brangelina Forever
2 - 0
February 19, 2017 7:45 pm Field 1
Keenage FC – The Browns
2 - 3
February 19, 2017 10:00 pm Field 2
Momma Meggers – Romby`s FC
2 - 0
February 26, 2017 7:45 pm Field 2
Romby`s FC – The Browns
4 - 0
February 26, 2017 8:30 pm Field 2
Keenage FC – Brangelina Forever
1 - 2
February 26, 2017 9:15 pm Field 2
Momma Meggers – NOTL
1 - 1
C Division

Match
Score
January 8, 2017 8:30 pm Field 1
Individuals 1 – Misfits
1 - 6
January 8, 2017 9:15 pm Field 1
TBD-Jesse G – Wide Open and Ready
2 - 2
January 8, 2017 10:00 pm Field 1
The Silencers – Virgil FC
0 - 3
January 15, 2017 7:45 pm Field 2
Individuals 1 – Wide Open and Ready
3 - 1
January 15, 2017 8:30 pm Field 2
TBD-Jesse G – The Silencers
3 - 0
January 15, 2017 9:15 pm Field 1
Misfits – Virgil FC
1 - 0
January 22, 2017 7:45 pm Field 2
The Silencers – Wide Open and Ready
3 - 6
January 22, 2017 8:30 pm Field 2
Individuals 1 – Virgil FC
2 - 2
January 22, 2017 10:00 pm Field 1
Misfits – TBD-Jesse G
1 - 1
January 29, 2017 7:45 pm Field 1
TBD-Jesse G – Virgil FC
2 - 2
January 29, 2017 8:30 pm Field 2
Misfits – Wide Open and Ready
4 - 0
January 29, 2017 10:00 pm Field 1
Individuals 1 – The Silencers
2 - 1
February 12, 2017 7:00 pm Field 2
Individuals 1 – Misfits
3 - 0
February 12, 2017 9:15 pm Field 2
The Silencers – Virgil FC
1 - 3
February 12, 2017 10:00 pm Field 2
TBD-Jesse G – Wide Open and Ready
1 - 2
February 19, 2017 7:45 pm Field 2
Misfits – Virgil FC
0 - 3
February 19, 2017 8:30 pm Field 2
TBD-Jesse G – The Silencers
3 - 1
February 19, 2017 9:15 pm Field 2
Individuals 1 – Wide Open and Ready
0 - 4
February 26, 2017 7:00 pm Field 2
Virgil FC – Wide Open and Ready
0 - 2
February 26, 2017 7:45 pm Field 1
Misfits – The Silencers
0 - 2
February 26, 2017 9:15 pm Field 1
Individuals 1 – TBD-Jesse G
0 - 2

2016 Qualifying Round Schedule
Qualifying Round Schedule by Week (match day) or Team

Match
Score
October 16, 2016 7:00 pm Field 2
Expendables – Graboids
2 - 2
October 16, 2016 7:45 pm Field 2
Individuals 1 – Keenage FC
0 - 4
October 16, 2016 7:45 pm Field 1
Wide Open and Ready – Brangelina Forever
2 - 3
October 16, 2016 8:30 pm Field 2
Liquor Pool FC – Misfits
10 - 1
October 16, 2016 8:30 pm Field 1
Romby's FC – Virgil FC
4 - 0
October 16, 2016 9:15 pm Field 2
Multiple Scoregasms – The Browns
8 - 5
October 16, 2016 9:15 pm Field 1
Salahuddin – We Got Balls
4 - 2
October 16, 2016 10:00 pm Field 2
Momma Meggers – The Silencers
4 - 0
October 16, 2016 10:00 pm Field 1
TBD-Jesse G – NOTL
0 - 2
October 23, 2016 7:00 pm Field 2
Salahuddin – NOTL
6 - 1
October 23, 2016 7:45 pm Field 2
Romby's FC – We Got Balls
1 - 2
October 23, 2016 7:45 pm Field 1
Multiple Scoregasms – The Silencers
5 - 1
October 23, 2016 8:30 pm Field 2
TBD-Jesse G – The Browns
1 - 4
October 23, 2016 8:30 pm Field 1
Momma Meggers – Brangelina Forever
5 - 0
October 23, 2016 9:15 pm Field 2
Wide Open and Ready – Virgil FC
4 - 0
October 23, 2016 9:15 pm Field 1
Graboids – Liquor Pool FC
4 - 1
October 23, 2016 10:00 pm Field 2
Keenage FC – Misfits
2 - 1
October 23, 2016 10:00 pm Field 1
Expendables – Individuals 1
4 - 2
October 30, 2016 7:00 pm Field 2
Individuals 1 – Liquor Pool FC
2 - 5
October 30, 2016 7:45 pm Field 2
Graboids – Misfits
2 - 1
October 30, 2016 7:45 pm Field 1
Momma Meggers – Virgil FC
4 - 1
October 30, 2016 8:30 pm Field 2
Romby's FC – NOTL
1 - 2
October 30, 2016 8:30 pm Field 1
Salahuddin – The Browns
9 - 4
October 30, 2016 9:15 pm Field 2
Expendables – Keenage FC
3 - 0
October 30, 2016 9:15 pm Field 1
TBD-Jesse G – The Silencers
2 - 3
October 30, 2016 10:00 pm Field 2
Multiple Scoregasms – Brangelina Forever
4 - 1
October 30, 2016 10:00 pm Field 1
Wide Open and Ready – We Got Balls
0 - 3
November 6, 2016 7:00 pm Field 2
Keenage FC – Brangelina Forever
1 - 2
November 6, 2016 7:45 pm Field 2
Expendables – TBD-Jesse G
2 - 0
November 6, 2016 7:45 pm Field 1
Wide Open and Ready – The Silencers
4 - 4
November 6, 2016 8:30 pm Field 2
Multiple Scoregasms – NOTL
6 - 3
November 6, 2016 8:30 pm Field 1
Misfits – We Got Balls
2 - 3
November 6, 2016 9:15 pm Field 2
Individuals 1 – Momma Meggers
1 - 4
November 6, 2016 9:15 pm Field 1
Liquor Pool FC – Romby's FC
4 - 3
November 6, 2016 10:00 pm Field 2
Salahuddin – Virgil FC
13 - 2
November 6, 2016 10:00 pm Field 1
Graboids – The Browns
9 - 3
November 13, 2016 7:00 pm Field 2
Misfits – The Browns
3 - 6
November 13, 2016 7:45 pm Field 2
Individuals 1 – Virgil FC
4 - 0
November 13, 2016 7:45 pm Field 1
Momma Meggers – Salahuddin
1 - 6
November 13, 2016 8:30 pm Field 2
Expendables – The Silencers
6 - 4
November 13, 2016 8:30 pm Field 1
Multiple Scoregasms – Wide Open and Ready
7 - 0
November 13, 2016 9:15 pm Field 2
Keenage FC – We Got Balls
0 - 6
November 13, 2016 9:15 pm Field 1
Graboids – Brangelina Forever
3 - 1
November 13, 2016 10:00 pm Field 2
Liquor Pool FC – NOTL
4 - 3
November 13, 2016 10:00 pm Field 1
Romby's FC – TBD-Jesse G
1 - 0
November 20, 2016 7:00 pm Field 2
Multiple Scoregasms – Virgil FC
8 - 1
November 20, 2016 7:45 pm Field 2
Expendables – Liquor Pool FC
2 - 3
November 20, 2016 7:45 pm Field 1
Romby's FC – The Browns
3 - 3
November 20, 2016 8:30 pm Field 2
TBD-Jesse G – Brangelina Forever
3 - 1
November 20, 2016 8:30 pm Field 1
Graboids – Keenage FC
4 - 3
November 20, 2016 9:15 pm Field 2
Salahuddin – The Silencers
5 - 1
November 20, 2016 9:15 pm Field 1
NOTL – Wide Open and Ready
2 - 0
November 20, 2016 10:00 pm Field 2
Individuals 1 – Misfits
1 - 5
November 20, 2016 10:00 pm Field 1
Momma Meggers – We Got Balls
2 - 3
November 27, 2016 7:00 pm Field 2
Wide Open and Ready – Romby's FC
0 - 1
November 27, 2016 7:45 pm Field 2
Misfits – NOTL
1 - 2
November 27, 2016 7:45 pm Field 1
Salahuddin – TBD-Jesse G
5 - 3
November 27, 2016 8:30 pm Field 2
Keenage FC – Virgil FC
3 - 0
November 27, 2016 8:30 pm Field 1
Liquor Pool FC – We Got Balls
2 - 7
November 27, 2016 9:15 pm Field 2
Individuals 1 – Brangelina Forever
1 - 1
November 27, 2016 9:15 pm Field 1
Multiple Scoregasms – Momma Meggers
10 - 3
November 27, 2016 10:00 pm Field 2
Expendables – The Browns
3 - 2
November 27, 2016 10:00 pm Field 1
Graboids – The Silencers
4 - 0
December 4, 2016 7:00 pm Field 2
TBD-Jesse G – We Got Balls
0 - 4
December 4, 2016 7:45 pm Field 2
Romby's FC – Brangelina Forever
0 - 2
December 4, 2016 7:45 pm Field 1
Graboids – Multiple Scoregasms
3 - 5
December 4, 2016 8:30 pm Field 2
Momma Meggers – The Browns
4 - 7
December 4, 2016 8:30 pm Field 1
Individuals 1 – The Silencers
1 - 2
December 4, 2016 9:15 pm Field 2
Misfits – Salahuddin
2 - 4
December 4, 2016 9:15 pm Field 1
Expendables – NOTL
6 - 2
December 4, 2016 10:00 pm Field 2
Liquor Pool FC – Virgil FC
2 - 1
December 4, 2016 10:00 pm Field 1
Keenage FC – Wide Open and Ready
4 - 0
December 11, 2016 7:00 pm Field 2
Momma Meggers – NOTL
3 - 1
December 11, 2016 7:45 pm Field 2
Wide Open and Ready – The Browns
5 - 1
December 11, 2016 7:45 pm Field 1
Keenage FC – Liquor Pool FC
1 - 5
December 11, 2016 8:30 pm Field 2
Graboids – Individuals 1
6 - 2
December 11, 2016 8:30 pm Field 1
Expendables – Misfits
5 - 2
December 11, 2016 9:15 pm Field 2
TBD-Jesse G – Virgil FC
0 - 1
December 11, 2016 9:15 pm Field 1
Romby's FC – The Silencers
3 - 1
December 11, 2016 10:00 pm Field 2
Multiple Scoregasms – We Got Balls
5 - 1
December 11, 2016 10:00 pm Field 1
Salahuddin – Brangelina Forever
3 - 0
December 18, 2016 7:00 pm Field 2
The Silencers – Liquor Pool FC
0 - 1
December 18, 2016 7:45 pm Field 2
Graboids – We Got Balls
3 - 3
December 18, 2016 7:45 pm Field 1
Individuals 1 – NOTL
8 - 2
December 18, 2016 8:30 pm Field 2
Multiple Scoregasms – Salahuddin
2 - 0
December 18, 2016 8:30 pm Field 1
Wide Open and Ready – TBD-Jesse G
0 - 2
December 18, 2016 9:15 pm Field 2
Misfits – Brangelina Forever
1 - 0
December 18, 2016 9:15 pm Field 1
The Browns – Keenage FC
5 - 5
December 18, 2016 10:00 pm Field 2
Romby's FC – Momma Meggers
2 - 3
December 18, 2016 10:00 pm Field 1
Expendables – Virgil FC
3 - 1