Indoor Soccer Schedule
2020-21 Indoor Soccer Schedule
As soon as we are out of grey zone we will finalize our session 1 playoffs and post the rest of the schedule with proper dates.

Schedule subject to change, please check schedule weekly to verify correct game time and field location. All games are played Sunday evenings
I would like to go over a few league details below.
No Spectators At The Games
This mast Monday Niagara is now in the "orange zone and as a result we are going to have to limit access to players only, starting today.  Spectators must stay home.
It is up to each player to decide if they want to play or not, no one is forced to play.  Each player must Take the Niagara Region self assessment before each game and if you answered yes to anything in the assessment, don't play call the number on the form.  If you answered no to all questions you are permitted to play if you choose to do so.
Due to Covid rules the league has to be broken down into groups of no more than 50 players total.  This means 4 teams of 12 players max on each roster.
All games are played at Niagara Falls Sports Plex.
We have 20 teams total broken down into 5 groups of 4 teams.  Players can not play for teams outside your group.  Teams may borrow players from their own group ONLY if they are short and the opposing team captain agrees to it before the game begins.
Covid specific rules 
We are happy to be finally playing but there are a few phase 3 re-opening restrictions players and teams have to follow.  Please remember we are here for fun and because we love the game of soccer.  There will be no Champions cup or trophies this season as it is not a full season.
Bring and use your own antibacterial hand sanitizer.
If you feel sick after arriving, please remove yourself from the game and review the Covid Screening Tool.
Cover your mouth and nose when coughing or sneezing.
Game day wellness checks "COVID Screening Tool " must be completed at home by all players prior to participation.
There will be no physical touching such as handshaking, high fives, fist/elbow bumps or huddles.
Only registered players are allowed on or near the player's bench. Family members and coaches need to stay on the spectators side and maintain 6 feet of distance.
When placing the ball for a free-kick, corner or sideline kick in, please use your feet to place the ball.  
Players should limit handling the ball if at all. 
Covid Phase 3 states Team sports must be separated into groups of no more than 50 players.  Due to this we have roster caps of 12 players per team and groups of 4 teams.  Players may NOT play for teams outside of their group.
After 8 weeks of play we will have 2 weeks of playoffs.  Groups may change based on the results, then we will have another 10 week season.
Playoff Schedule Can Be Found Here.
Indoor Soccer Standings Quick Link
Team Colour & Roster List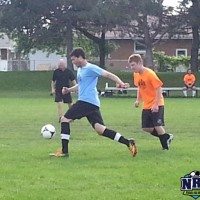 For field locations follow this link.
_
Indoor Soccer Divisional Schedule 2020-21
Group 1
Group 2
Group 3 
Group 4
Indoor Soccer Standings 2020-21
Group 1 Standings

3 points for a win
1 point for a tie
Back to Top
Group 2 Standings

3 points for a win
1 point for a tie
Back to Top
Group 3 Standings

3 points for a win
1 point for a tie
Back to Top
Group 4 Standings

3 points for a win
1 point for a tie
Back to Top
---
Indoor Soccer Schedules 2020-21

Schedule by Week (match day) or Team

Match
Score
October 25, 2020 8:15 pm Field A
The Fury – Dirty Dozen
1 - 5
October 25, 2020 8:15 pm Field B
Rangers FC – Expendaballs
1 - 1
November 1, 2020 6:00 pm Field A
Dirty Dozen – Expendaballs
6 - 4
November 1, 2020 6:00 pm Field B
The Fury – Rangers FC
2 - 2
November 8, 2020 6:45 pm Field A
The Fury – Expendaballs
1 - 3
November 8, 2020 6:45 pm Field B
Dirty Dozen – Rangers FC
5 - 4
November 15, 2020 7:30 pm Field A
Expendaballs – Rangers FC
3 - 1
November 15, 2020 7:30 pm Field B
The Fury – Dirty Dozen
0 - 7
November 22, 2020 8:15 pm Field A
The Fury – Rangers FC
0 - 0
November 22, 2020 8:15 pm Field B
Dirty Dozen – Expendaballs
6 - 0
November 29, 2020 6:00 pm Field A
Dirty Dozen – Rangers FC
0 - 1
November 29, 2020 6:00 pm Field B
The Fury – Expendaballs
1 - 1
December 6, 2020 6:45 pm Field A
The Fury – Dirty Dozen
3 - 3
December 6, 2020 6:45 pm Field B
Rangers FC – Expendaballs
1 - 1
December 13, 2020 7:30 pm Field A
Dirty Dozen – Expendaballs
1 - 3
December 13, 2020 7:30 pm Field B
The Fury – Rangers FC
1 - 1
Group 2

Schedule by Week (match day) or Team

Match
Score
October 25, 2020 7:30 pm Field A
BallBusters 2.0 – LC Saints
0 - 1
October 25, 2020 7:30 pm Field B
Proactive – Net Six and Chill
1 - 2
November 1, 2020 8:15 pm Field A
LC Saints – Net Six and Chill
2 - 5
November 1, 2020 8:15 pm Field B
BallBusters 2.0 – Proactive
3 - 6
November 8, 2020 6:00 pm Field A
BallBusters 2.0 – Net Six and Chill
7 - 2
November 8, 2020 6:00 pm Field B
LC Saints – Proactive
1 - 4
November 15, 2020 6:45 pm Field A
Proactive – Net Six and Chill
0 - 4
November 15, 2020 6:45 pm Field B
BallBusters 2.0 – LC Saints
2 - 2
November 22, 2020 7:30 pm Field A
BallBusters 2.0 – Proactive
2 - 3
November 22, 2020 7:30 pm Field B
LC Saints – Net Six and Chill
1 - 5
November 29, 2020 8:15 pm Field A
LC Saints – Proactive
3 - 4
November 29, 2020 8:15 pm Field B
BallBusters 2.0 – Net Six and Chill
2 - 1
December 6, 2020 6:00 pm Field A
BallBusters 2.0 – LC Saints
4 - 2
December 6, 2020 6:00 pm Field B
Proactive – Net Six and Chill
2 - 3
December 13, 2020 6:45 pm Field A
LC Saints – Net Six and Chill
6 - 3
December 13, 2020 6:45 pm Field B
BallBusters 2.0 – Proactive
1 - 2
Group 3

Schedule by Week (match day) or Team

Match
Score
October 25, 2020 6:45 pm Field A
Unreal Madrid – Pink Slips
2 - 1
October 25, 2020 6:45 pm Field B
Graboids – Sorry in Advance
5 - 1
November 1, 2020 7:30 pm Field A
Pink Slips – Sorry in Advance
0 - 4
November 1, 2020 7:30 pm Field B
Unreal Madrid – Graboids
5 - 6
November 8, 2020 8:15 pm Field A
Unreal Madrid – Sorry in Advance
2 - 1
November 8, 2020 8:15 pm Field B
Pink Slips – Graboids
2 - 2
November 15, 2020 6:00 pm Field A
Graboids – Sorry in Advance
2 - 3
November 15, 2020 6:00 pm Field B
Unreal Madrid – Pink Slips
4 - 2
November 22, 2020 6:45 pm Field A
Unreal Madrid – Graboids
5 - 6
November 22, 2020 6:45 pm Field B
Sorry in Advance – Pink Slips
3 - 5
November 29, 2020 7:30 pm Field A
Pink Slips – Graboids
3 - 5
November 29, 2020 7:30 pm Field B
Unreal Madrid – Sorry in Advance
1 - 0
December 6, 2020 8:15 pm Field A
Unreal Madrid – Pink Slips
1 - 3
December 6, 2020 8:15 pm Field B
Graboids – Sorry in Advance
3 - 0
December 13, 2020 6:00 pm Field A
Pink Slips – Sorry in Advance
2 - 2
December 13, 2020 6:00 pm Field B
Unreal Madrid – Graboids
3 - 4
Group 4

Schedule by Week (match day) or Team

Match
Score
October 25, 2020 6:00 pm Field A
Game of Throw-in's – Individuals 1
9 - 1
October 25, 2020 6:00 pm Field B
Virgil FC – Look Ma! No hands! 
2 - 0
November 1, 2020 6:45 pm Field A
Individuals 1 – Look Ma! No hands! 
2 - 0
November 1, 2020 6:45 pm Field B
Game of Throw-in's – Virgil FC
1 - 1
November 8, 2020 7:30 pm Field A
Game of Throw-in's – Look Ma! No hands! 
5 - 0
November 8, 2020 7:30 pm Field B
Individuals 1 – Virgil FC
0 - 6
November 15, 2020 8:15 pm Field A
Virgil FC – Look Ma! No hands! 
3 - 0
November 15, 2020 8:15 pm Field B
Game of Throw-in's – Individuals 1
4 - 0
November 22, 2020 6:00 pm Field A
Game of Throw-in's – Virgil FC
2 - 2
November 22, 2020 6:00 pm Field B
Individuals 1 – Look Ma! No hands! 
0 - 0
November 29, 2020 6:45 pm Field A
Individuals 1 – Virgil FC
1 - 3
November 29, 2020 6:45 pm Field B
Game of Throw-in's – Look Ma! No hands! 
7 - 0
December 6, 2020 7:30 pm Field A
Game of Throw-in's – Individuals 1
4 - 0
December 6, 2020 7:30 pm Field B
Virgil FC – Look Ma! No hands! 
4 - 2
December 13, 2020 8:15 pm Field A
Individuals 1 – Look Ma! No hands! 
0 - 1
December 13, 2020 8:15 pm Field B
Game of Throw-in's – Virgil FC
0 - 1