Softball Rules
Niagara Rec Sports Softball Rules
No Roster Caps
Please select either Coed or Men's to get the rules for the appropriate league below.
Coed Softball St. Catharines Rules – Click Here
Coed Softball Regency Niagara Falls Rules Click Here
Men's Softball Rules Click here
Metal Spikes
Metal spikes are not allowed at all.
Players who wear metal spikes will be removed from the game until they come back with non metal cleats.
If players wear metal cleats more than once in the season they will be removed from the game the second time.
Repeat offenders will receive suspensions.
Balls
We will be using SPO Hot Dot Classic Plus balls (SPO12HDSY) for all of our leagues.
Each team will be given 2 balls at the start of the season, teams are to supply their own if more balls are needed.
At the beginning of the game each team will give the umpire 1 ball to use during the game. The umpire will return the ball at the end of the game.  The team listed first on the schedule will have to provide a new (or reasonably new) ball.  The team listed 2nd on the schedule will provide a used but in good shape ball.
Bats
All bats must be USSSA certified and have the USSSA 1.20 BPF thumbprint on the taper of the bat.  If you are buying a new bat make sure it has the USSSA 1.20 BPF thumbprint
Any other bats will not be permitted.
If a player steps into the batters box with an illegal bat the opposing team must notify the umpire at that time.  The umpire will inspect the bat and if ti is deemed illegal the batter will receive an out.  Repeat offenders will be ejected from the game and receive further suspensions.
All composite bats must have the USSSA thump print.
_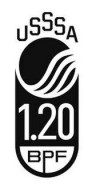 Illegal bat List
Below are a few examples of bats deemed Illegal in North America
Miken Ultra (Grey)
Miken Ultra II (Black)
Miken Ultra
Easton Synergy (Black / grey)
Easton synergy II (Black/ Grey)
Any Eastern synergy that does NOT have the USSSA thumb print.