Outdoor Soccer Schedule – Coed

2021 Outdoor Soccer Schedule – Coed
Team Colour  & Roster List
All players must review and complete the covid 19 screening tool before each game.  covid 19 screening tool
COVID Rules
Bring and use your own antibacterial hand sanitizer.
If you feel sick after arriving, please remove yourself from the game and review the Covid Screening Tool..
Cover your mouth and nose when coughing or sneezing.
Game day wellness checks "COVID Screening Tool " must be completed at home by all players prior to participation.
Only registered players are allowed on or near the player's bench. Family members and coaches need to stay on the spectators side and maintain 6 feet of distance.
Schedule subject to change, please check schedule weekly to verify correct game time and field location.  All games are played Sunday evenings.  Rain out's (if any) will be made up on any days a field is available.
WE play Rain or Shine, assume there is a game unless you hear otherwise from NRS.  Notifications will first be on the website, and we will send an email if possible.
Playoff Schedule Can Be Found Here.
No games on long weekends unless we need them for rain out make up games.
Outdoor Soccer Standings Quick Link
Team Colour & Roster List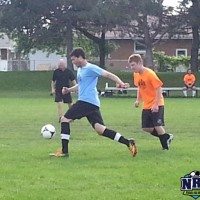 For field locations follow this link.
_
Outdoor Soccer Schedule 2021
A Division
B Division 
C Division
__
A Division Schedule
A Division Schedule Schedule by Week (match day) or Team

Match
Score
July 11, 2021 5:10 pm Pearson East
Neas FC – International
1 - 5
July 11, 2021 6:25 pm Pearson East
Versa Fitness – Brown Sugar
7 - 1
July 11, 2021 7:45 pm West Park 2
Individuals 2021 – Monstars
3 - 1
July 18, 2021 5:10 pm West Park 2
Versa Fitness – Individuals 2021
4 - 2
July 18, 2021 5:10 pm Pearson East
Neas FC – Monstars
8 - 1
July 18, 2021 6:25 pm West Park 1
Brown Sugar – International
1 - 3
July 25, 2021 3:50 pm West Park 1
Neas FC – Versa Fitness
2 - 2
July 25, 2021 3:50 pm West Park 2
International – Monstars
4 - 3
July 25, 2021 3:50 pm Pearson East
Brown Sugar – Individuals 2021
1 - 2
August 8, 2021 5:10 pm West Park 1
Individuals 2021 – International
1 - 2
August 8, 2021 5:10 pm West Park 2
Monstars – Versa Fitness
2 - 4
August 8, 2021 7:45 pm Grantham Lions
Brown Sugar – Neas FC
3 - 6
August 15, 2021 6:25 pm West Park 1
Monstars – Brown Sugar
5 - 1
August 15, 2021 6:25 pm West Park 2
Individuals 2021 – Neas FC
4 - 4
August 15, 2021 7:45 pm Grantham Lions
International – Versa Fitness
1 - 4
August 22, 2021 3:50 pm West Park 2
International – Neas FC
0 - 8
August 22, 2021 5:10 pm Pearson East
Brown Sugar – Versa Fitness
2 - 2
August 22, 2021 7:45 pm Grantham Lions
Monstars – Individuals 2021
3 - 3
August 29, 2021 3:50 pm West Park 1
Individuals 2021 – Versa Fitness
0 - 3
August 29, 2021 6:25 pm Pearson East
Monstars – Neas FC
1 - 6
August 29, 2021 7:45 pm West Park 2
International – Brown Sugar
3 - 0
September 5, 2021 5:10 pm West Park 2
Individuals 2021 – Brown Sugar
1 - 3
September 5, 2021 5:10 pm Grantham Lions
Versa Fitness – Neas FC
3 - 4
September 5, 2021 6:25 pm West Park 1
Monstars – International
5 - 6
September 12, 2021 7:45 pm West Park 1
Neas FC – Brown Sugar
4 - 3
September 12, 2021 7:45 pm West Park 2
Versa Fitness – Monstars
1 - 5
September 12, 2021 7:45 pm Pearson East
International – Individuals 2021
3 - 1
B Division Schedule
B Division Schedule by Week (match day) or Team

Match
Score
July 11, 2021 3:50 pm Pearson East
Coyotes – PDHC
3 - 2
July 11, 2021 5:10 pm Grantham Lions
SPM FC – Victorious Secret
8 - 0
July 11, 2021 6:25 pm West Park 2
Apes Together Strong – LC Saints
5 - 6
July 11, 2021 6:25 pm Grantham Lions
Squad Goals – TBD - Jesse G
6 - 4
July 11, 2021 7:45 pm Pearson East
TP FC – St.Kitts FC
6 - 1
July 11, 2021 7:45 pm Grantham Lions
Proactive – Sorry in Advance
5 - 3
July 18, 2021 3:50 pm West Park 1
St.Kitts FC – Apes Together Strong
3 - 8
July 18, 2021 3:50 pm West Park 2
Sorry in Advance – Squad Goals
3 - 3
July 18, 2021 3:50 pm Pearson East
LC Saints – Proactive
1 - 5
July 18, 2021 6:25 pm Grantham Lions
PDHC – TP FC
2 - 6
July 18, 2021 7:45 pm West Park 1
Victorious Secret – Coyotes
3 - 5
July 18, 2021 7:45 pm West Park 2
TBD - Jesse G – SPM FC
0 - 2
July 25, 2021 5:10 pm West Park 1
Squad Goals – Proactive
3 - 0
July 25, 2021 5:10 pm West Park 2
Coyotes – TBD - Jesse G
2 - 2
July 25, 2021 5:10 pm Pearson East
TP FC – Victorious Secret
7 - 0
July 25, 2021 5:10 pm Grantham Lions
St.Kitts FC – LC Saints
2 - 2
July 25, 2021 6:25 pm Pearson East
SPM FC – Sorry in Advance
2 - 4
July 25, 2021 7:45 pm West Park 2
Apes Together Strong – PDHC
0 - 13
August 8, 2021 6:25 pm West Park 1
PDHC – St.Kitts FC
5 - 0
August 8, 2021 6:25 pm West Park 2
Sorry in Advance – Coyotes
2 - 1
August 8, 2021 6:25 pm Grantham Lions
Victorious Secret – Apes Together Strong
2 - 7
August 8, 2021 7:45 pm West Park 1
TBD - Jesse G – TP FC
1 - 3
August 8, 2021 7:45 pm West Park 2
Proactive – SPM FC
3 - 5
August 8, 2021 7:45 pm Pearson East
Squad Goals – LC Saints
1 - 4
August 15, 2021 3:50 pm West Park 1
SPM FC – TP FC
7 - 2
August 15, 2021 3:50 pm Pearson East
TBD - Jesse G – Victorious Secret
2 - 0
August 15, 2021 5:10 pm West Park 1
Sorry in Advance – PDHC
2 - 6
August 15, 2021 5:10 pm Pearson East
Apes Together Strong – Squad Goals
2 - 3
August 15, 2021 5:10 pm Grantham Lions
LC Saints – Coyotes
8 - 1
August 15, 2021 6:25 pm Grantham Lions
Proactive – St.Kitts FC
5 - 1
August 22, 2021 6:25 pm West Park 1
Coyotes – SPM FC
2 - 6
August 22, 2021 6:25 pm West Park 2
TP FC – Squad Goals
1 - 1
August 22, 2021 6:25 pm Pearson East
Apes Together Strong – Proactive
1 - 4
August 22, 2021 6:25 pm Grantham Lions
PDHC – TBD - Jesse G
4 - 0
August 22, 2021 7:45 pm West Park 1
LC Saints – Victorious Secret
6 - 3
August 22, 2021 7:45 pm West Park 2
St.Kitts FC – Sorry in Advance
0 - 3
August 29, 2021 3:50 pm West Park 2
TBD - Jesse G – St.Kitts FC
3 - 0
August 29, 2021 3:50 pm Pearson East
Sorry in Advance – Apes Together Strong
5 - 3
August 29, 2021 5:10 pm West Park 1
TP FC – Proactive
2 - 2
August 29, 2021 5:10 pm Pearson East
Victorious Secret – PDHC
0 - 6
August 29, 2021 6:25 pm West Park 1
LC Saints – SPM FC
3 - 4
August 29, 2021 7:45 pm West Park 1
Coyotes – Squad Goals
1 - 2
September 5, 2021 3:50 pm West Park 1
SPM FC – Squad Goals
1 - 2
September 5, 2021 3:50 pm West Park 2
PDHC – LC Saints
7 - 1
September 5, 2021 3:50 pm Pearson East
Proactive – Coyotes
3 - 5
September 5, 2021 7:45 pm West Park 1
Apes Together Strong – TBD - Jesse G
0 - 2
September 5, 2021 7:45 pm West Park 2
Victorious Secret – St.Kitts FC
2 - 0
September 5, 2021 7:45 pm Grantham Lions
Sorry in Advance – TP FC
0 - 2
September 12, 2021 5:10 pm West Park 2
TBD - Jesse G – Sorry in Advance
8 - 4
September 12, 2021 5:10 pm Pearson East
St.Kitts FC – SPM FC
0 - 2
September 12, 2021 5:10 pm Grantham Lions
Coyotes – Apes Together Strong
6 - 4
September 12, 2021 6:25 pm West Park 2
Victorious Secret – Proactive
2 - 6
September 12, 2021 6:25 pm Pearson East
LC Saints – TP FC
0 - 7
September 12, 2021 7:45 pm Grantham Lions
Squad Goals – PDHC
1 - 3
C Division Schedule
C Division Schedule by Week (match day) or Team

Match
Score
July 11, 2021 3:50 pm West Park 1
Lock 1 FC – PWSL All-Stars
1 - 8
July 11, 2021 3:50 pm West Park 2
Multiple Scoregasms – Ball Handlers
6 - 0
July 11, 2021 5:10 pm West Park 1
Cleats Up – Individuals 3
6 - 5
July 11, 2021 5:10 pm West Park 2
Will of Fire – Pink Slips
2 - 1
July 11, 2021 6:25 pm West Park 1
Threat Level Midnight – Individuals 2
3 - 8
July 11, 2021 7:45 pm West Park 1
For Kicks and Giggles – Back That Pass Up
1 - 5
July 18, 2021 5:10 pm West Park 1
Ball Handlers – For Kicks and Giggles
0 - 5
July 18, 2021 5:10 pm Grantham Lions
Back That Pass Up – Threat Level Midnight
8 - 1
July 18, 2021 6:25 pm West Park 2
PWSL All-Stars – Will of Fire
5 - 3
July 18, 2021 6:25 pm Pearson East
Pink Slips – Multiple Scoregasms
0 - 1
July 18, 2021 7:45 pm Pearson East
Individuals 2 – Cleats Up
2 - 4
July 18, 2021 7:45 pm Grantham Lions
Individuals 3 – Lock 1 FC
7 - 2
July 25, 2021 6:25 pm West Park 1
Individuals 3 – Threat Level Midnight
1 - 6
July 25, 2021 6:25 pm West Park 2
Lock 1 FC – Cleats Up
1 - 7
July 25, 2021 6:25 pm Grantham Lions
Individuals 2 – For Kicks and Giggles
4 - 1
July 25, 2021 7:45 pm West Park 1
Back That Pass Up – Multiple Scoregasms
4 - 2
July 25, 2021 7:45 pm Pearson East
Ball Handlers – Will of Fire
0 - 6
July 25, 2021 7:45 pm Grantham Lions
Pink Slips – PWSL All-Stars
4 - 3
August 8, 2021 3:50 pm West Park 1
Threat Level Midnight – Ball Handlers
6 - 4
August 8, 2021 3:50 pm West Park 2
Cleats Up – Back That Pass Up
2 - 2
August 8, 2021 3:50 pm Pearson East
For Kicks and Giggles – Pink Slips
4 - 3
August 8, 2021 5:10 pm Pearson East
Lock 1 FC – Individuals 2
6 - 8
August 8, 2021 5:10 pm Grantham Lions
Multiple Scoregasms – Will of Fire
4 - 3
August 8, 2021 6:25 pm Pearson East
Individuals 3 – PWSL All-Stars
1 - 3
August 15, 2021 3:50 pm West Park 2
Individuals 2 – Individuals 3
3 - 2
August 15, 2021 5:10 pm West Park 2
Pink Slips – Threat Level Midnight
2 - 3
August 15, 2021 6:25 pm Pearson East
Back That Pass Up – Lock 1 FC
5 - 0
August 15, 2021 7:45 pm West Park 1
Will of Fire – For Kicks and Giggles
4 - 3
August 15, 2021 7:45 pm West Park 2
Ball Handlers – Cleats Up
4 - 6
August 15, 2021 7:45 pm Pearson East
PWSL All-Stars – Multiple Scoregasms
1 - 0
August 22, 2021 3:50 pm West Park 1
Will of Fire – Cleats Up
1 - 3
August 22, 2021 3:50 pm Pearson East
Threat Level Midnight – Multiple Scoregasms
3 - 6
August 22, 2021 5:10 pm West Park 1
Pink Slips – Lock 1 FC
12 - 0
August 22, 2021 5:10 pm West Park 2
PWSL All-Stars – For Kicks and Giggles
5 - 1
August 22, 2021 5:10 pm Grantham Lions
Ball Handlers – Individuals 3
1 - 9
August 22, 2021 7:45 pm Pearson East
Back That Pass Up – Individuals 2
3 - 1
August 29, 2021 5:10 pm West Park 2
Multiple Scoregasms – Individuals 2
5 - 3
August 29, 2021 5:10 pm Grantham Lions
Cleats Up – PWSL All-Stars
0 - 5
August 29, 2021 6:25 pm West Park 2
Will of Fire – Back That Pass Up
2 - 3
August 29, 2021 6:25 pm Grantham Lions
Pink Slips – Ball Handlers
3 - 0
August 29, 2021 7:45 pm Pearson East
Lock 1 FC – Threat Level Midnight
1 - 7
August 29, 2021 7:45 pm Grantham Lions
For Kicks and Giggles – Individuals 3
1 - 5
September 5, 2021 5:10 pm West Park 1
Threat Level Midnight – Will of Fire
1 - 4
September 5, 2021 5:10 pm Pearson East
Individuals 3 – Back That Pass Up
0 - 5
September 5, 2021 6:25 pm West Park 2
For Kicks and Giggles – Multiple Scoregasms
1 - 3
September 5, 2021 6:25 pm Pearson East
Lock 1 FC – Ball Handlers
5 - 3
September 5, 2021 6:25 pm Grantham Lions
PWSL All-Stars – Individuals 2
2 - 2
September 5, 2021 7:45 pm Pearson East
Cleats Up – Pink Slips
2 - 0
September 12, 2021 3:50 pm West Park 1
Individuals 3 – Pink Slips
7 - 2
September 12, 2021 3:50 pm West Park 2
Will of Fire – Lock 1 FC
7 - 3
September 12, 2021 3:50 pm Pearson East
Back That Pass Up – PWSL All-Stars
1 - 4
September 12, 2021 5:10 pm West Park 1
Individuals 2 – Ball Handlers
6 - 0
September 12, 2021 6:25 pm West Park 1
Multiple Scoregasms – Cleats Up
5 - 3
September 12, 2021 6:25 pm Grantham Lions
Threat Level Midnight – For Kicks and Giggles
3 - 5
---
2021 Team Rosters