Outdoor Soccer Schedule – Coed

2016 Outdoor Soccer Schedule – Coed
Team Colour  & Roster List
Schedule subject to change, please check schedule weekly to verify correct game time and field location.  All games are played Sunday evenings.  Rain out's (if any) will be made up on any days a field is available.
WE play Rain or Shine, assume there is a game unless you hear otherwise from NRS.  Notifications will first be on the website, and we will send an email if possible.
Playoff Schedule Can Be Found Here.
No games on long weekends unless we need them for rain out make up games.
Outdoor Soccer Standings Quick Link
Team Colour & Roster List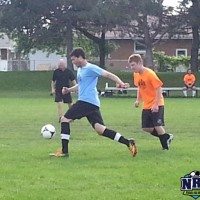 For field locations follow this link.
_
Outdoor Soccer Schedule 2016
Intermediate Division
Rec. Division Group A
Rec. Division Group B
Rec. Division Group C
2016 Season Layout
Intermediate Division
This is our top division, teams will be playing for the NRS Champions Cup when Playoffs arrive.  Even though it is our top division please keep in mind it is not a "Competitive" Division, it is coed adult soccer, first priority should be to have fun.
Rec Division
The Rec Division has 32 teams total broken up into 3 groups.  Teams were randomly placed into one of the 3 groups, the "A", "B" and "C" are used to distinguish between the 3 groups and have nothing to do with skill level or competitiveness of the group.  Playoffs will be broken up into 4 groups of 8 with the top 2 teams from each group and the next highest ranked teams (out of all 3 groups) being placed in the "B Division" pool playing for the NRS Consolation Cup.  The same format will be followed until all teams are placed in their respective Playoff pools.

2016 Intermediate Division schedule
Intermediate Division Schedule by Week (match day) or Team

Match
Score
May 29, 2016 5:10 pm Berkley 1
Let's get Messi – Misfits
6 - 0
May 29, 2016 6:25 pm Berkley 1
Sweat FC – Cadillac FC
2 - 2
May 29, 2016 6:25 pm West Park 1
Sorry in Advance – Man Chest Hair United
2 - 4
May 29, 2016 7:45 pm Berkley 1
How I Met Your Mata – Shocker Balls
1 - 3
June 5, 2016 3:50 pm West Park 1
Man Chest Hair United – How I Met Your Mata
7 - 3
June 5, 2016 5:10 pm West Park 1
Shocker Balls – Sorry in Advance
2 - 1
June 5, 2016 6:25 pm West Park 1
Sweat FC – Misfits
2 - 0
June 5, 2016 7:45 pm West Park 1
Cadillac FC – Let's get Messi
2 - 2
June 12, 2016 5:10 pm Pearson Park West
Shocker Balls – Man Chest Hair United
1 - 2
June 12, 2016 7:45 pm Pearson Park West
Cadillac FC – Misfits
7 - 1
June 12, 2016 9:00 pm West Park 1
Let's get Messi – Sorry in Advance
2 - 1
June 12, 2016 9:00 pm West Park 2
How I Met Your Mata – Sweat FC
4 - 1
June 19, 2016 5:10 pm West Park 2
Shocker Balls – Cadillac FC
3 - 3
June 19, 2016 6:25 pm West Park 2
Sweat FC – Man Chest Hair United
1 - 3
June 19, 2016 7:45 pm Pearson Park West
Let's get Messi – How I Met Your Mata
0 - 3
June 19, 2016 9:00 pm West Park 2
Misfits – Sorry in Advance
1 - 3
June 26, 2016 5:10 pm Berkley 2
Let's get Messi – Man Chest Hair United
2 - 7
June 26, 2016 6:25 pm Berkley 2
Misfits – How I Met Your Mata
0 - 11
June 26, 2016 7:45 pm Berkley 2
Sorry in Advance – Cadillac FC
1 - 6
June 26, 2016 9:00 pm Berkley 2
Sweat FC – Shocker Balls
7 - 6
July 10, 2016 3:50 pm Grantham Lions
Sweat FC – Let's get Messi
3 - 3
July 10, 2016 5:10 pm Grantham Lions
How I Met Your Mata – Sorry in Advance
4 - 3
July 10, 2016 6:25 pm Grantham Lions
Cadillac FC – Man Chest Hair United
1 - 2
July 10, 2016 7:45 pm Grantham Lions
Shocker Balls – Misfits
9 - 0
July 17, 2016 6:00 pm Berkley 1
Sweat FC – Sorry in Advance
1 - 3
July 17, 2016 7:15 pm Berkley 1
Let's get Messi – Shocker Balls
2 - 2
July 17, 2016 8:30 pm Berkley 1
Man Chest Hair United – Misfits
5 - 0
July 17, 2016 9:45 pm Berkley 1
Cadillac FC – How I Met Your Mata
1 - 3
July 24, 2016 5:10 pm Berkley 2
How I Met Your Mata – Shocker Balls
4 - 5
July 24, 2016 7:45 pm Berkley 2
Sweat FC – Cadillac FC
0 - 8
July 24, 2016 9:00 pm Berkley 1
Man Chest Hair United – Sorry in Advance
5 - 1
July 24, 2016 9:00 pm Berkley 2
Let's get Messi – Misfits
8 - 1
August 7, 2016 3:50 pm West Park 1
Sorry in Advance – Shocker Balls
2 - 4
August 7, 2016 5:10 pm West Park 1
Sweat FC – Misfits
7 - 0
August 7, 2016 7:45 pm Berkley 2
Cadillac FC – Let's get Messi
5 - 4
August 7, 2016 7:45 pm West Park 1
Man Chest Hair United – How I Met Your Mata
3 - 1
August 14, 2016 3:50 pm West Park 2
Cadillac FC – Misfits
2 - 0
August 14, 2016 5:10 pm West Park 2
Sweat FC – How I Met Your Mata
1 - 8
August 14, 2016 6:25 pm West Park 2
Shocker Balls – Man Chest Hair United
2 - 1
August 14, 2016 7:45 pm West Park 2
Let's get Messi – Sorry in Advance
2 - 3
August 21, 2016 3:50 pm Grantham Lions
Let's get Messi – How I Met Your Mata
2 - 0
August 21, 2016 5:10 pm Grantham Lions
Cadillac FC – Shocker Balls
0 - 2
August 21, 2016 6:25 pm Grantham Lions
Misfits – Sorry in Advance
0 - 2
August 21, 2016 7:45 pm Grantham Lions
Sweat FC – Man Chest Hair United
1 - 7
August 28, 2016 3:50 pm West Park 1
Cadillac FC – Sorry in Advance
4 - 0
August 28, 2016 5:10 pm West Park 1
Let's get Messi – Man Chest Hair United
2 - 3
August 28, 2016 6:25 pm West Park 1
Misfits – How I Met Your Mata
1 - 5
August 28, 2016 7:45 pm West Park 1
Sweat FC – Shocker Balls
2 - 4
2016 Rec Division Schedule
Rec Division Group A
Rec Division Schedule by Week (match day) or Team

Match
Score
May 29, 2016 3:50 pm West Park 2
Individuals 2 – GoalDiggerz
1 - 6
May 29, 2016 5:10 pm West Park 2
Hangry Hangry Hippos – Arse 'n All
0 - 14
May 29, 2016 6:25 pm West Park 2
Individuals 3 – Grandma's Quilt
6 - 5
May 29, 2016 6:25 pm Grantham Lions
The Indies – TNT
4 - 7
May 29, 2016 9:00 pm Berkley 1
Game of Throw-in's – The Recruits
2 - 2
May 29, 2016 9:00 pm Berkley 2
Beercelona – For Kicks and Giggles
2 - 2
June 5, 2016 5:10 pm Grantham Lions
The Recruits – Grandma's Quilt
7 - 1
June 5, 2016 6:25 pm Grantham Lions
Hangry Hangry Hippos – The Indies
1 - 8
June 5, 2016 7:45 pm Berkley 1
For Kicks and Giggles – Game of Throw-in's
1 - 0
June 5, 2016 7:45 pm Berkley 2
Beercelona – TNT
1 - 2
June 5, 2016 7:45 pm Grantham Lions
Individuals 2 – Arse 'n All
3 - 6
June 5, 2016 9:00 pm Berkley 2
Individuals 3 – GoalDiggerz
1 - 5
June 12, 2016 5:10 pm Berkley 1
Individuals 3 – Beercelona
3 - 4
June 12, 2016 5:10 pm Berkley 2
Individuals 2 – Grandma's Quilt
0 - 2
June 12, 2016 5:10 pm West Park 2
Game of Throw-in's – TNT
2 - 0
June 12, 2016 6:25 pm Pearson Park West
The Recruits – For Kicks and Giggles
4 - 1
June 12, 2016 7:45 pm West Park 2
Hangry Hangry Hippos – GoalDiggerz
2 - 8
June 12, 2016 9:00 pm Berkley 1
The Recruits – Arse 'n All
0 - 2
June 12, 2016 9:00 pm Berkley 2
For Kicks and Giggles – The Indies
7 - 1
June 19, 2016 5:10 pm Berkley 1
Hangry Hangry Hippos – TNT
1 - 12
June 19, 2016 6:25 pm Berkley 1
Arse 'n All – GoalDiggerz
2 - 4
June 19, 2016 6:25 pm Pearson Park West
Individuals 2 – Game of Throw-in's
1 - 7
June 19, 2016 7:45 pm Berkley 1
Beercelona – Grandma's Quilt
5 - 2
June 19, 2016 9:00 pm West Park 1
Individuals 3 – The Indies
3 - 1
June 26, 2016 3:50 pm West Park 1
The Recruits – Individuals 3
6 - 1
June 26, 2016 5:10 pm West Park 2
Individuals 2 – For Kicks and Giggles
1 - 3
June 26, 2016 6:25 pm West Park 1
Hangry Hangry Hippos – Beercelona
0 - 10
June 26, 2016 6:25 pm West Park 2
Grandma's Quilt – GoalDiggerz
3 - 9
June 26, 2016 7:45 pm West Park 1
Game of Throw-in's – The Indies
1 - 2
June 26, 2016 7:45 pm West Park 2
Arse 'n All – TNT
3 - 0
July 10, 2016 5:10 pm Berkley 2
The Indies – Arse 'n All
1 - 5
July 10, 2016 5:10 pm West Park 2
The Recruits – GoalDiggerz
2 - 3
July 10, 2016 6:25 pm West Park 2
Game of Throw-in's – Beercelona
1 - 0
July 10, 2016 7:45 pm Berkley 2
Individuals 2 – Individuals 3
5 - 4
July 10, 2016 7:45 pm West Park 2
For Kicks and Giggles – Hangry Hangry Hippos
8 - 0
July 10, 2016 9:00 pm Berkley 1
Grandma's Quilt – TNT
0 - 1
July 17, 2016 6:00 pm Berkley 2
Individuals 3 – For Kicks and Giggles
0 - 3
July 17, 2016 6:00 pm West Park 1
Hangry Hangry Hippos – Game of Throw-in's
0 - 9
July 17, 2016 6:00 pm West Park 2
Arse 'n All – Grandma's Quilt
5 - 1
July 17, 2016 8:30 pm Grantham Lions
The Recruits – Individuals 2
6 - 1
July 17, 2016 9:45 pm Berkley 2
Beercelona – The Indies
7 - 3
July 17, 2016 9:45 pm West Park 1
GoalDiggerz – TNT
0 - 2
July 24, 2016 5:10 pm Berkley 1
Individuals 2 – The Indies
4 - 3
July 24, 2016 5:10 pm West Park 1
For Kicks and Giggles – TNT
2 - 2
July 24, 2016 6:25 pm West Park 1
Game of Throw-in's – GoalDiggerz
3 - 3
July 24, 2016 6:25 pm Grantham Lions
Hangry Hangry Hippos – Grandma's Quilt
0 - 12
July 24, 2016 7:45 pm West Park 2
Individuals 3 – Arse 'n All
2 - 4
July 24, 2016 7:45 pm Grantham Lions
The Recruits – Beercelona
3 - 0
August 7, 2016 3:50 pm West Park 2
Game of Throw-in's – Arse 'n All
1 - 1
August 7, 2016 3:50 pm Grantham Lions
The Indies – Grandma's Quilt
6 - 2
August 7, 2016 5:10 pm Berkley 1
For Kicks and Giggles – GoalDiggerz
3 - 4
August 7, 2016 6:25 pm West Park 1
Individuals 3 – TNT
4 - 6
August 7, 2016 6:25 pm Grantham Lions
Individuals 2 – Beercelona
1 - 0
August 7, 2016 7:45 pm Grantham Lions
The Recruits – Hangry Hangry Hippos
9 - 0
August 14, 2016 5:10 pm Berkley 2
The Recruits – The Indies
5 - 0
August 14, 2016 5:10 pm Grantham Lions
Beercelona – GoalDiggerz
2 - 7
August 14, 2016 6:25 pm Berkley 2
Individuals 2 – TNT
4 - 6
August 14, 2016 6:25 pm West Park 1
For Kicks and Giggles – Arse 'n All
3 - 1
August 14, 2016 6:25 pm Grantham Lions
Individuals 3 – Hangry Hangry Hippos
10 - 0
August 14, 2016 7:45 pm Grantham Lions
Game of Throw-in's – Grandma's Quilt
3 - 2
August 21, 2016 3:50 pm West Park 1
Beercelona – Arse 'n All
1 - 3
August 21, 2016 3:50 pm West Park 2
For Kicks and Giggles – Grandma's Quilt
2 - 0
August 21, 2016 5:10 pm West Park 2
Individuals 3 – Game of Throw-in's
1 - 3
August 21, 2016 6:25 pm West Park 2
The Recruits – TNT
2 - 2
August 21, 2016 7:45 pm Berkley 1
The Indies – GoalDiggerz
2 - 7
August 21, 2016 9:00 pm Berkley 1
Individuals 2 – Hangry Hangry Hippos
8 - 1
August 28, 2016 3:50 pm Grantham Lions
Hangry Hangry Hippos – TNT
0 - 2
August 28, 2016 5:10 pm Berkley 1
Individuals 3 – The Indies
3 - 3
August 28, 2016 6:25 pm Berkley 2
The Recruits – For Kicks and Giggles
3 - 2
August 28, 2016 6:25 pm Grantham Lions
GoalDiggerz – Arse 'n All
0 - 2
August 28, 2016 7:45 pm Grantham Lions
Beercelona – Grandma's Quilt
2 - 0
August 28, 2016 9:00 pm Berkley 2
Individuals 2 – Game of Throw-in's
1 - 3
Rec Division Group B
Rec Division Schedule by Week (match day) or Team

Match
Score
May 29, 2016 3:50 pm Grantham Lions
Shotguns – DJB United
2 - 3
May 29, 2016 5:10 pm West Park 1
Fake Madrid – Flying Penguins
3 - 1
May 29, 2016 5:10 pm Grantham Lions
AC A Little Silhouette of Milan – I'd kick that
2 - 9
May 29, 2016 7:45 pm West Park 2
Individuals 1 – Individuals 5
1 - 5
May 29, 2016 7:45 pm Grantham Lions
It Just Got Messi – Liquor Pool FC
4 - 2
June 5, 2016 5:10 pm Berkley 1
Individuals 1 – DJB United
3 - 4
June 5, 2016 5:10 pm Berkley 2
Individuals 5 – Shotguns
7 - 2
June 5, 2016 6:25 pm Berkley 1
Flying Penguins – Liquor Pool FC
1 - 9
June 5, 2016 6:25 pm Berkley 2
AC A Little Silhouette of Milan – Fake Madrid
7 - 6
June 5, 2016 6:25 pm West Park 2
I'd kick that – It Just Got Messi
0 - 1
June 12, 2016 3:50 pm West Park 1
Individuals 1 – AC A Little Silhouette of Milan
1 - 7
June 12, 2016 3:50 pm West Park 2
Fake Madrid – Liquor Pool FC
2 - 4
June 12, 2016 5:10 pm West Park 1
DJB United – It Just Got Messi
3 - 4
June 12, 2016 6:25 pm West Park 1
Individuals 5 – I'd kick that
1 - 7
June 12, 2016 7:45 pm West Park 1
Shotguns – Flying Penguins
1 - 3
June 19, 2016 5:10 pm Berkley 2
Fake Madrid – It Just Got Messi
2 - 8
June 19, 2016 6:25 pm Berkley 2
Individuals 1 – Shotguns
2 - 3
June 19, 2016 7:45 pm Berkley 2
I'd kick that – Liquor Pool FC
0 - 2
June 19, 2016 9:00 pm Berkley 1
AC A Little Silhouette of Milan – Flying Penguins
8 - 3
June 19, 2016 9:00 pm Berkley 2
DJB United – Individuals 5
3 - 3
June 26, 2016 3:50 pm West Park 2
AC A Little Silhouette of Milan – Liquor Pool FC
2 - 2
June 26, 2016 3:50 pm Grantham Lions
Individuals 5 – It Just Got Messi
1 - 4
June 26, 2016 5:10 pm Grantham Lions
Shotguns – I'd kick that
2 - 6
June 26, 2016 6:25 pm Grantham Lions
Individuals 1 – Flying Penguins
5 - 2
June 26, 2016 7:45 pm Grantham Lions
DJB United – Fake Madrid
2 - 7
July 10, 2016 3:50 pm West Park 2
I'd kick that – Flying Penguins
5 - 1
July 10, 2016 5:10 pm West Park 1
Individuals 5 – Liquor Pool FC
0 - 10
July 10, 2016 6:25 pm Berkley 1
Individuals 1 – Fake Madrid
2 - 3
July 10, 2016 6:25 pm West Park 1
DJB United – AC A Little Silhouette of Milan
1 - 4
July 10, 2016 7:45 pm West Park 1
Shotguns – It Just Got Messi
2 - 5
July 17, 2016 6:00 pm Grantham Lions
Flying Penguins – It Just Got Messi
0 - 2
July 17, 2016 7:15 pm West Park 2
Fake Madrid – Individuals 5
2 - 0
July 17, 2016 7:15 pm Grantham Lions
Shotguns – AC A Little Silhouette of Milan
2 - 4
July 17, 2016 8:30 pm West Park 2
DJB United – Liquor Pool FC
3 - 2
July 17, 2016 9:45 pm Grantham Lions
Individuals 1 – I'd kick that
2 - 4
July 24, 2016 6:25 pm Berkley 1
Individuals 1 – It Just Got Messi
3 - 1
July 24, 2016 6:25 pm Berkley 2
Shotguns – Liquor Pool FC
0 - 6
July 24, 2016 7:45 pm West Park 1
DJB United – Flying Penguins
2 - 2
July 24, 2016 7:45 pm Berkley 1
Individuals 5 – AC A Little Silhouette of Milan
1 - 6
July 24, 2016 9:00 pm West Park 1
I'd kick that – Fake Madrid
5 - 3
August 7, 2016 5:10 pm West Park 2
Individuals 5 – Flying Penguins
0 - 2
August 7, 2016 5:10 pm Grantham Lions
Individuals 1 – Liquor Pool FC
3 - 2
August 7, 2016 6:25 pm West Park 2
DJB United – I'd kick that
3 - 2
August 7, 2016 7:45 pm West Park 2
Shotguns – Fake Madrid
0 - 2
August 7, 2016 9:00 pm Berkley 2
AC A Little Silhouette of Milan – It Just Got Messi
4 - 2
August 14, 2016 5:10 pm Berkley 1
AC A Little Silhouette of Milan – I'd kick that
2 - 2
August 14, 2016 6:25 pm Berkley 1
It Just Got Messi – Liquor Pool FC
1 - 4
August 14, 2016 7:45 pm Berkley 1
Fake Madrid – Flying Penguins
5 - 6
August 14, 2016 9:00 pm Berkley 1
DJB United – Shotguns
7 - 0
August 14, 2016 9:00 pm Berkley 2
Individuals 5 – Individuals 1
0 - 6
August 21, 2016 6:25 pm Berkley 1
Individuals 1 – DJB United
1 - 2
August 21, 2016 6:25 pm West Park 1
AC A Little Silhouette of Milan – Fake Madrid
7 - 2
August 21, 2016 7:45 pm West Park 1
Individuals 5 – Shotguns
4 - 6
August 21, 2016 7:45 pm West Park 2
I'd kick that – It Just Got Messi
2 - 1
August 21, 2016 9:00 pm Berkley 2
Flying Penguins – Liquor Pool FC
1 - 8
August 28, 2016 3:50 pm West Park 2
Individuals 5 – I'd kick that
0 - 2
August 28, 2016 5:10 pm West Park 2
DJB United – It Just Got Messi
5 - 3
August 28, 2016 5:10 pm Grantham Lions
Fake Madrid – Liquor Pool FC
0 - 2
August 28, 2016 6:25 pm West Park 2
Shotguns – Flying Penguins
3 - 3
August 28, 2016 7:45 pm West Park 2
Individuals 1 – AC A Little Silhouette of Milan
3 - 3
Rec Division Group C
Rec Division Schedule by Week (match day) or Team

Match
Score
May 29, 2016 3:50 pm West Park 1
Moldy Crows – Kicking and Screaming
5 - 2
May 29, 2016 5:10 pm Berkley 2
Individual 4 – Newfie Bullets
3 - 5
May 29, 2016 6:25 pm Berkley 2
Individual 6 – TBD - Jesse G
5 - 5
May 29, 2016 7:45 pm Berkley 2
Spurs – Black Assassins
5 - 4
May 29, 2016 7:45 pm West Park 1
Liver Fools – Strikers FC
1 - 5
June 5, 2016 3:50 pm West Park 2
Individual 4 – Spurs
4 - 11
June 5, 2016 3:50 pm Grantham Lions
Newfie Bullets – Strikers FC
1 - 4
June 5, 2016 5:10 pm West Park 2
Black Assassins – Kicking and Screaming
0 - 0
June 5, 2016 7:45 pm West Park 2
Moldy Crows – TBD - Jesse G
1 - 6
June 5, 2016 9:00 pm Berkley 1
Individual 6 – Liver Fools
4 - 2
June 12, 2016 6:25 pm Berkley 1
Spurs – Moldy Crows
3 - 1
June 12, 2016 6:25 pm Berkley 2
Liver Fools – Kicking and Screaming
3 - 0
June 12, 2016 6:25 pm West Park 2
Black Assassins – Strikers FC
0 - 3
June 12, 2016 7:45 pm Berkley 1
Individual 4 – TBD - Jesse G
2 - 5
June 12, 2016 7:45 pm Berkley 2
Individual 6 – Newfie Bullets
2 - 0
June 19, 2016 5:10 pm West Park 1
TBD - Jesse G – Liver Fools
1 - 2
June 19, 2016 5:10 pm Pearson Park West
Individual 6 – Strikers FC
7 - 2
June 19, 2016 6:25 pm West Park 1
Individual 4 – Moldy Crows
2 - 2
June 19, 2016 7:45 pm West Park 1
Newfie Bullets – Black Assassins
2 - 1
June 19, 2016 7:45 pm West Park 2
Spurs – Kicking and Screaming
1 - 0
June 26, 2016 5:10 pm Berkley 1
Individual 6 – Kicking and Screaming
7 - 0
June 26, 2016 5:10 pm West Park 1
TBD - Jesse G – Strikers FC
1 - 4
June 26, 2016 6:25 pm Berkley 1
Newfie Bullets – Spurs
3 - 4
June 26, 2016 7:45 pm Berkley 1
Liver Fools – Moldy Crows
0 - 6
June 26, 2016 9:00 pm Berkley 1
Individual 4 – Black Assassins
5 - 3
July 10, 2016 3:50 pm West Park 1
Individual 6 – Black Assassins
5 - 7
July 10, 2016 5:10 pm Berkley 1
Individual 4 – Liver Fools
4 - 3
July 10, 2016 6:25 pm Berkley 2
Newfie Bullets – Kicking and Screaming
3 - 1
July 10, 2016 7:45 pm Berkley 1
Spurs – TBD - Jesse G
8 - 0
July 10, 2016 9:00 pm Berkley 2
Moldy Crows – Strikers FC
5 - 5
July 17, 2016 7:15 pm Berkley 2
Liver Fools – Black Assassins
3 - 0
July 17, 2016 7:15 pm West Park 1
Newfie Bullets – Moldy Crows
0 - 2
July 17, 2016 8:30 pm Berkley 2
Individual 4 – Strikers FC
0 - 2
July 17, 2016 8:30 pm West Park 1
TBD - Jesse G – Kicking and Screaming
0 - 4
July 17, 2016 9:45 pm West Park 2
Individual 6 – Spurs
3 - 3
July 24, 2016 3:50 pm Grantham Lions
TBD - Jesse G – Black Assassins
2 - 4
July 24, 2016 5:10 pm West Park 2
Newfie Bullets – Liver Fools
4 - 2
July 24, 2016 5:10 pm Grantham Lions
Spurs – Strikers FC
1 - 4
July 24, 2016 6:25 pm West Park 2
Individual 6 – Moldy Crows
1 - 0
July 24, 2016 9:00 pm West Park 2
Individual 4 – Kicking and Screaming
5 - 1
August 7, 2016 5:10 pm Berkley 2
Strikers FC – Kicking and Screaming
3 - 1
August 7, 2016 6:25 pm Berkley 1
Individual 4 – Individual 6
7 - 1
August 7, 2016 6:25 pm Berkley 2
Moldy Crows – Black Assassins
7 - 5
August 7, 2016 7:45 pm Berkley 1
Spurs – Liver Fools
1 - 1
August 7, 2016 9:00 pm Berkley 1
Newfie Bullets – TBD - Jesse G
6 - 0
August 14, 2016 3:50 pm West Park 1
Individual 6 – TBD - Jesse G
0 - 1
August 14, 2016 3:50 pm Grantham Lions
Liver Fools – Strikers FC
1 - 4
August 14, 2016 5:10 pm West Park 1
Spurs – Black Assassins
4 - 1
August 14, 2016 7:45 pm Berkley 2
Individual 4 – Newfie Bullets
1 - 5
August 14, 2016 7:45 pm West Park 1
Moldy Crows – Kicking and Screaming
4 - 1
August 21, 2016 5:10 pm Berkley 1
Individual 4 – Spurs
4 - 1
August 21, 2016 5:10 pm Berkley 2
Newfie Bullets – Strikers FC
2 - 1
August 21, 2016 5:10 pm West Park 1
TBD - Jesse G – Moldy Crows
0 - 0
August 21, 2016 6:25 pm Berkley 2
Black Assassins – Kicking and Screaming
3 - 3
August 21, 2016 7:45 pm Berkley 2
Individual 6 – Liver Fools
4 - 2
August 28, 2016 5:10 pm Berkley 2
Individual 4 – Moldy Crows
0 - 2
August 28, 2016 6:25 pm Berkley 1
Liver Fools – TBD - Jesse G
4 - 13
August 28, 2016 7:45 pm Berkley 1
Individual 6 – Strikers FC
2 - 1
August 28, 2016 7:45 pm Berkley 2
Spurs – Kicking and Screaming
7 - 3
August 28, 2016 9:00 pm Berkley 1
Newfie Bullets – Black Assassins
0 - 2